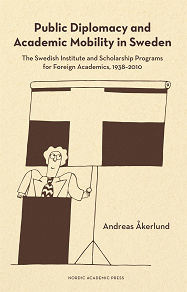 Isbn:
978-91-8816-853-5
Publisher:
Nordic Academic Press
Category:
Education
Accessible since:
January 2017
---
Public diplomacy and academic mobility in Sweden : the Swedish institute and scholarship programs for foreign academics 1938-2010
Academic exchange is one of the cornerstones of public diplomacy. Receiving foreign academics is one way of influencing foreign elites in an attempt to build goodwill and stable international networks. The result is that academic mobility and the internationalization of higher education and research have always been directly affected by foreign policy decisions and diplomatic considerationsand still are.

In Public Diplomacy and Academic Mobility in Sweden, Andreas Åkerlund analyses Swedens scholarship programs for foreign academics in a long-term perspective. Here a quantitative analysis of scholarship holders is related to Swedish exchange policy and grant practices by looking at the Swedish Institute in particular. The result is an account of how public diplomacy, foreign policy, development assistance, and the ideas of a knowledge-based economy and international competition affected academic exchanges with Sweden in the twentieth century.
---