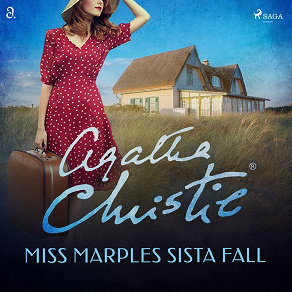 Isbn:
978-87-1178-822-6
Publisher:
Saga Egmont
Category:
Crime & Mystery
Accessible since:
January 2019
Narrator:
Märta Lundin
Length: 7 hours 6 minutes
---
Miss Marples sista fall
Den unga nygifta Gwenda Reed blev förälskad i villan i badortsidyllen vid första ögonkastet. Men var det inte något som kändes bekant?
När hon stiger in i villan för första gången får hon en förnimmelse om att en död kvinna ligger på golvet. Och det verkar vara hennes styvmor ...
Det visar sig snart att Gwenda bott i huset i treårsåldern och nu vänder hon sig till Miss Marple för att få klarhet i vad som hänt. Marples efterforskningar leder till tre män som alla tjänat på att röja styvmodern ur vägen. Ett fruktansvärt brott vars sanning är på väg att uppdagas ...

I och med detta fall tar Miss Marple avsked av sina läsare. Men på vilket sätt hon gör det!

Agatha Christie (1890-1976) var en brittisk deckarförfattare och världens bäst säljande författare efter Shakespeare med över 4 miljarder böcker sålda på engelska och andra språk. Mest känd är hon för detektiven Hercule Poirot. Tillsammans med Arthur Conan Doyle är hon den som har format deckargenren mest.

---

Translation entitled 'Miss Marples sista fall' © 1977 Agatha Christie Limited. All rights reserved.

Miss Marple's Final Cases © 1979 Agatha Christie Limited. All rights reserved.

AGATHA CHRISTIE ® MISS MARPLE ® are registered trademarks of Agatha Christie Limited in the UK and/or elsewhere. All rights reserved.
Listen to sample
---