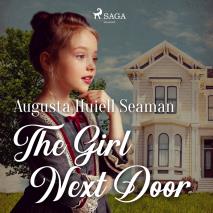 Isbn:
978-87-2647-212-7
Publisher:
Saga Egmont
Category:
Children's books
Accessible since:
August 2020
Narrator:
Jennifer Dallman
Length: 4 hours 12 minutes
---
The Girl Next Door
Marcia Brett tells her friend Janet that the old, broken-down house next door, which they always thought was empty and abandoned, is apparently not so. An old, veiled woman lives there, and so does a pretty, blond girl of about their age. They discover that this girl, Cicely Marlowe, came to live with old Mrs. Benedict after her mother's death, but she doesn't know why, or she is. All she does know is that she must remains mostly unseen, not look out the windows, or talk to anyone. 

Augusta Huiell Seaman (1879-1950) was a prolific American author of children's literature from New York City, and wrote "The Sapphire Signet," "The Boarded-Up House," "The Slipper-Point Mystery," "The Girl Next Door," writing over 40 historical fiction and mystery novels for older children.
Listen to sample
---