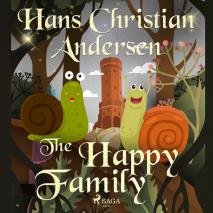 The Happy Family
Next to a long-abandoned castle, grows a jungle of burdock. Under the great green leaves live two old snails, descended from a long lineage, whose ancestors were served on silver platters to the inhabitants of the castle. The couple are waiting for just one thing, to be cooked as well...

Hans Christian Andersen (1805-1875) was a Danish author, poet and artist. Celebrated for children's literature, his most cherished fairy tales include 'The Emperor's New Clothes', 'The Little Mermaid', 'The Nightingale', 'The Steadfast Tin Soldier', 'The Snow Queen', 'The Ugly Duckling' and 'The Little Match Girl'. His books have been translated into every living language, and today there is no child or adult that has not met Andersen's whimsical characters. His fairy tales have been adapted to stage and screen countless times, most notably by Disney with the animated films "The Little Mermaid" in 1989 and "Frozen", which is loosely based on "The Snow Queen", in 2013.

Thanks to Andersen's contribution to children's literature, his birth date, April 2, is celebrated as International Children's Book Day.
Listen to sample
---