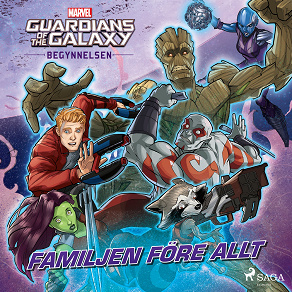 Guardians of the Galaxy - Begynnelsen - Familjen före allt
Det här är berättelsen om hur Guardians of the Galaxy mötte varandra! Vi får veta varför Peter Quill är ute på äventyr i rymden, och hur han blev Star-Lord.
Någon har brutit sig in i Nova Corps laboratorium, och Gamora tror sig veta vem det kan vara – och att hon känner personen i fråga. Hon ger sig iväg ensam för att möta den misstänkta och ställa allt till rätta – men kommer hon klara sig utan resten av gänget?


Följ med till MARVELS fantastiska universum! Lyssna på häftiga berättelser med Avengers Iron Man, Spider-Man, Hulk, Captain America, Black Widow, Thor, Hawkeye, Doctor Strange, Captain Marvel, Black Panther, Falcon, Ms Marvel, Star-Lord, Deadpool och alla andra hjältar och skurkar från MARVELS otroliga skattkammare. Ta på dig din mantel och hitta din inre superhjälte – nu drar vi på fartfyllda äventyr!
Listen to sample
---