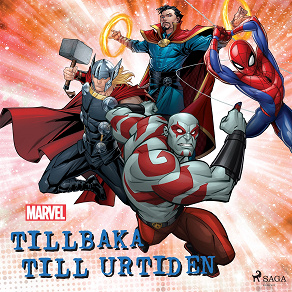 Marvel - Tillbaka till urtiden
Den hemska trollkvinnan Enchantress lyckas fly från sin cell i Asgårds fängelsehålor, och innan Thor kan stoppa henne har hon teleporterat sig själv till jorden. En bit bort i kosmos får Guardians of the Galaxy meddelandet om var Enchantress är på väg, och de bestämmer sig för att hjälpa till, med Spider-man hack i häl. Men trollkvinnan tänker inte ge sig så lätt! Enchantress lägger en trollformel som transporterar hjältarna tillbaka till dinosauriernas tid, och nu är de verkligen i knipa!

Följ med till MARVELS fantastiska universum! Lyssna på häftiga berättelser med Avengers Iron Man, Spider-Man, Hulk, Captain America, Black Widow, Thor, Hawkeye, Doctor Strange, Captain Marvel, Black Panther, Falcon, Ms Marvel, Star-Lord, Deadpool och alla andra hjältar och skurkar från MARVELS otroliga skattkammare. Ta på dig din mantel och hitta din inre superhjälte – nu drar vi på fartfyllda äventyr!
Listen to sample
---