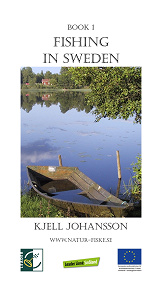 Fishing in Sweden
This book is part 1 (of 15) in the natur-fiske series. A complete guide to fishing and spending a nature holiday in Sweden. 

This book tells you everything about fishing and sport fishing in Sweden, from a historical look at how we fished to get food on the table to how we fished more for recreation today. Sweden has plenty of lakes and streams that are open for fishing. Water areas are privately owned and leased to a fishing public through the purchase of fishing licenses.
The fishing administration areas (FVO) administer the fishing waters, offer fishing licenses, build ramps, rent boats and issue depth maps of the waters.
The book also gives advice regarding making fishing sustainable, because we all want to keep the fine fishing we have today. Handling your catch in a proper way and using Catch & Release are two ways of accomplishing this.
This type of information is found in the book, and you have good use of it both as a domestic fisherman and as a visitor to Sweden.
Read sample
(Download)
---