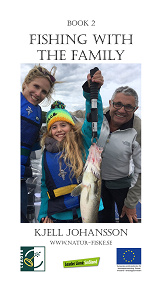 Fishing with the Family
This book is part 2 (of 15) in the natur-fiske series. A complete guide to fishing and spending a nature holiday in Sweden. 

Fishing can be a first-class activity for families. This book gives a lot of advice on how to set up fishing trips and nature visits so that the children will not be disappointed and will be excited for future trips.
In Sweden, sport fishing is generally an interest for men. People who work with fishing issues are working to encourage more girls and whole families start fishing with the hopes of retaining this exciting interest. Fishing suits both women and men.
Fishing must take place on the child's terms, be simple and lead to bites. If nothing happens, children do not see the point of the activity and it becomes difficult to get them interested more than once. Current fishing methods use lots of digital equipment is used and this can attract many young people to this activity.
Read sample
(Download)
---