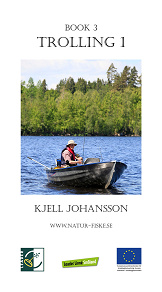 Trolling 1
This book is part 3 (of 15) in the natur-fiske series. A complete guide to fishing and spending a nature holiday in Sweden. 

Trolling for pike and zander is a method that suits both the beginner and the more trained angler equally well. A boat is needed because the baits used to attract the predatory fish must be placed at the depth where predatory fish dwell.
You can use very simple or more advanced equipment and you get advice on either level to choose. The book presents the equipment that is needed. The method is also suitable for children because the only thing a beginner needs to do is watch for bites and reel in the fish. Gradually, beginners can manage more things, like setting out lines, changing baits and steering the boat.
If you master trolling, you are sure to succeed with the main goal of sport fishing - catching fish.
Read about trolling for perch, in Perch fishing.
Read sample
(Download)
---