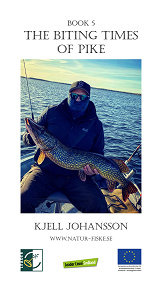 The Biting Times of Pike
This book is part 5 (of 15) in the natur-fiske series. A complete guide to fishing and spending a nature holiday in Sweden. 

This is quite a sensational book because you can read about and learn at what times pike eat during the day. I describe how my co-author, Christer Svensson, and I discovered this and how we tested if these 'meal times' were true. It certainly was and we published (the printed) book "Nu hugger gäddan!" where the feeding times were revealed. This sensational book is here for the first time available in English in a revised digital version. The bites still occur at these specific times and will give you more bites if you make use of these feeding periods.
We used trolling and ice fishing to find the times, so there is also information about these methods in the book.
Before the release of "Nu hugger gäddan!" there was nothing at all written about the biting times because very few people thought that specific feeding times existed.
Read sample
(Download)
---