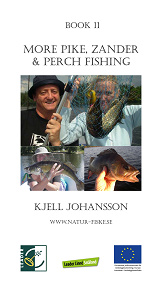 More Pike, Zander and Perch Fishing
This book is part 11 (of 15) in the natur-fiske series. A complete guide to fishing and spending a nature holiday in Sweden. 

From my (printed) book "Exciting methods for pike, zander and perch" I have fetched and revised the chapters in this book. A lot of space is given to ice fishing for zander and pike, a rather new and fun method that is a development of "angelfiske" (tip-up fishing) for pike. I describe equipment and how to behave when there is a bite. In the books The Biting Times of Pike and The Biting Times of Zander you will find more about fishing on ice, as we used ice fishing as a method to find out the biting times of these species.
Can you go trolling with a jig? Absolutely and with good results. How to make pike and zander bite is described in detail in this book. You will learn trolling with bait as well, and  the spectacular method of clucking for perch.
Float fishing and slow trolling with bait fish are other methods presented.
Read sample
(Download)
---