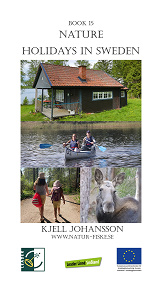 Nature Holidays in Sweden
This book is part 15 (of 15) in the natur-fiske series. A complete guide to fishing and spending a nature holiday in Sweden. 

The book is a guide on how to get out into nature in the best way and what you can do there alone, in a group or with the family. Fishing is only one such activity and this book gives advice on how to carry out many other exciting activities.
In Swedish nature, there is room for many more because the Right of Public Access provides great opportunities to stay and move in virtually untouched wilderness. I give tips on how to choose a suitable "wilderness level", from taking a bike ride and returning home to hiking for a week in the wilderness and spending the night in windbreaks and tents.
Examples of accommodation options are presented. In addition, which animals you can see and photograph is discussed and advice is given on how to create a quiet holiday.
Sustainability is extremely important and examples are given of how to achieve this when staying in nature.
Read the book, choose your level of wilderness and go explore Sweden's wonderful forests and lakes.
Read sample
(Download)
---