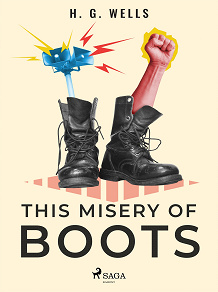 Isbn:
978-87-2659-676-2
Publisher:
Saga Egmont
Category:
Society & Culture
Accessible since:
April 2022
---
This Misery of Boots
'This Misery of Boots' is a compelling non-fiction book by H.G. Wells. The book uniquely and entertainingly puts forth the virtues of socialism and criticises working conditions in 20th Century Britain. Wells uses the symbol of the boot as a striking example of the various 'preventable miseries' that British citizens suffered at that time. This book is not simply a repeat of what other celebrated socialist thinkers such as Marx wrote, but a thought-provoking and well-balanced new vision. Wells argues that private property should be disbanded for essential services such as transport but argues against armed revolution. Wells argues that 'it lies in the power of men to cure' society's ills and his ideas received praise from other great authors such as George Bernard Shaw. 'This Misery of Boots' remains relevant as many of the miseries Wells discusses still plague society to this day and it should be read by people interested in socialism and politics.

H. G. Wells (1866-1946) was a celebrated English writer, remembered mostly for his science fiction works. Often described as a futurist, H. G. Wells' influence cannot be overstated for his works foresaw many technological innovations such as space travel, the atomic bomb, and the Internet. A four-time Nobel Prize in Literature nominee, Wells explored a wide array of themes in his works, from religion to social criticism and beyond. Some of his best works include the time-travel novel 'The Time Machine', the sci-fi adventure novel 'The Island of Dr. Moreau', and the mankind-versus-aliens novel 'The War of the Worlds'. Wells occupies one of the central seats in the canon of science-fiction literature and his writing inspired other celebrated authors such as Ray Bradbury and Philip K. Dick. Wells' stories are still widely read to this day and have had numerous cinematic adaptations including 'The Invisible Man' starring Elisabeth Moss.
---