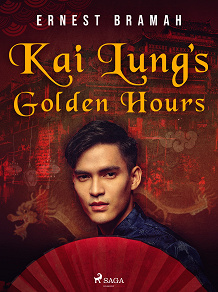 Kai Lung's Golden Hours
Thrown in jail for treason, Kai Lung must face the court of the Mandarin Shan Tien to prove his innocence. But time is running out, and with every tick of the clock, Kai Lung is one step closer to his death.

Will his mastery of words and storytelling be enough to save him?

Weaving carefully interlaced folk tales, 'Kai Lung's Golden Hours' crafts a charmingly witty and suspenseful court drama. Transporting readers to the enchanting world of ancient China, Ernest Bramah's classic novel is ideal for fans of Chloe Gong's 'These Violent Delights'.



Ernest Bramah (1868-1942) was a prominent English author of 21 books and numerous short stories. Toying with humour, suspenseful detective tales, politico-science fiction and supernatural stories, George Orwell praised Bramah's 'What Might Have Been' as an influence on his ground-breaking '1984'. His major characters and series feature the popular 'Kai Lung' and 'Max Carrados'. Bramah remains today an important figure when it comes to the crime and science fiction genres.
---