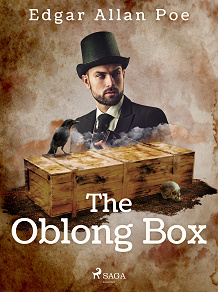 The Oblong Box
When the narrator boards the ship 'Independence' for a summer trip from Charleston to New York City, the days ahead look idyllic. His old college friend Cornelius Wyatt is also aboard, with his wife and two sisters, so it promises to be a sociable journey.

However, there is one mysterious addition to the guest list - an oblong box measuring six feet by two-and-a-half feet. The box, which has a noisome odour, is kept in Wyatt's and his wife's room.

When the narrator hears nightly outbreaks of wailing and crying from Wyatt's room, he investigates. He is closing in on the terrible truth when a hurricane hits the ship - and Wyatt refuses to leave the box behind.

His heartbreaking secret will soon be revealed.

This book is ideal reading for fans of 'The Riddle of the Sands' by Erskine Childers.



Edgar Allan Poe (1809-1849) was an American poet, author, and literary critic. In a brief life, he was renowned for his poetry, short stories and tales of the supernatural. He is also regarded as the inventor of the detective genre and a contributor to the emergence of science fiction, dark romanticism, and weird fiction.

Born in Boston, he was abandoned by his father a year after his birth. Then, when his mother died the following year, he was taken in and raised by John and Frances Allan of Richmond, Virginia.

After falling out with Mr Allan in 1827 over his gambling debts, Poe joined the US Army under an assumed name and had his first collection 'Tamarlane and Other Poems' published anonymously. He worked as a literary critic and moved around America, writing as he went.

When his wife died of tuberculosis in 1847, Poe's life descended into drinking and alleged substance abuse. He died in 1849, aged 40, with the cause of death unknown. His most famous works include 'The Raven', 'The Black Cat' and 'The Gold-Bug'.

---