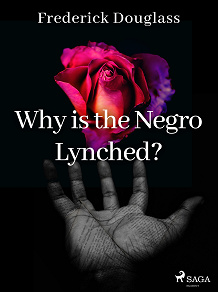 Why is the Negro Lynched?
Written just a year before his death, 'Why is the Negro Lynched?' is one of Douglass' most moving and passionate speeches.

Still sadly-pertinent today, his skill as a wordsmith is captured in passages that discuss everything from law and respect for human life to religion and the necessity for belonging.

An expert orator, Douglass presents his arguments as though they were part of a court case, deftly switching between the roles of prosecution and defence, before passing sentence against the white establishment of the time.

An important book for anyone and everyone.



Frederick Douglass (1818-1995) was an American abolitionist and author. Born into slavery in Maryland, he was of African, European, and Native American descent. He was separated from his mother at a young age and lived with his grandmother until he was moved to another plantation.

Frederick was taught his alphabet by the wife of one of his owners, a knowledge he passed on to other slaves. In 1838, he successfully escaped slavery by jumping on a north-bound train. After less than 24 hours, he was in New York and free.

The same year, he married the woman that had inspired his run for freedom and started working actively as a social reformer, orator, statesman, and women's rights defender.

He remains most known today for his 1845 autobiography "Narrative of the Life of Frederick Douglass, an American Slave."
---