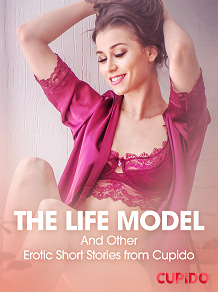 The Life Model – And Other Erotic Short Stories from Cupido
'The Life Model – And Other Erotic Short Stories' is a collection of short erotic fiction from Cupido on the theme of exploring sexuality. From men who have never questioned their homosexuality to straight married couples and parents who suddenly discover that their best friend arouses them, making their nipples erect or their cock hard.
The collection which delves into bisexuality/pansexuality, women loving women, and men loving men, contains the following stories:
'Just Needed to Cry it Out', 'The Girly Blind Date', 'Hot Summer 2', 'A Lively Hike', 'The Camping Trip', 'Caraway Seed', 'Ikean Conquest', 'The Game', 'London Games', 'The Atelier', 'My Place in the Forest', 'The Party', 'X-Lady', 'Fast Delivery', 'Suitors in the Midnight Sun', 'Pool', 'Fantasy', 'The Cousin', 'Seville', 'In-Flight Movie', 'This Isn't Egg Shell', 'Burning, Burned, Burnt', 'The Cabin Trip', 'The Handyman', 'What We Men Have in Common', 'The Bus Ride', 'Just the Drink Talking', 'Complications', 'The Kiss', 'The Collision', 'There and Then' and 'Saudade Lisbon!'



CUPIDO – the magazine for intimate, horny pleasure – has been publishing erotic fiction based on readers' everyday fantasies and sexual experiences since 1984. Published in new sexy collections in collaboration between Hverdag AS/Cupido and Saga.
---