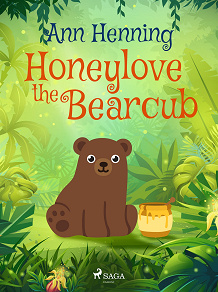 Honeylove the Bearcub
'Honeylove the Bear Cub' was written by Ann Henning when she was just seven years old, but the story was first published forty years later, when Henning was living in Connemara, Ireland. A sweet tale, 'Honeylove the Bear Cub' is suitable for all young readers.



Ann Henning Jocelyn was born in Sweden in 1948. Following the death of her father, Ann and her siblings were raised by their mother in remote and beautiful Ed on the Norwegian border. Ann thrived here - by the age of four she was reading, and by five she had written her very first story. The family moved closer to Gothenburg following her mother's remarriage, where Ann struggled in the new environment and turned to her love of reading and writing for comfort. Ann wrote her very first book 'Honeylove the Bearcub' by the time she was seven, and by nine she had a story published in a magazine. Ann attended Gothenburg University to study Classical Architecture and Drama, before moving to London to study theatre and drama. In 1982, Ann moved to Connemara on the west coast of Ireland to focus on her writing, where she still lives today along with her husband. The area is well-known for its' ponies, and the creatures became part of Ann's daily life, influencing her writing. Bestseller 'The Connemara Whirlwind', about life in the pony world of Connemara, was followed by 'The Connemara Stallion' and 'The Connemara Champion'. Also a keen playwright and theatre advocate, Ann co-founded the Connemara Theatre Company which has shown several of her plays including 'Baptism of Fire' and 'The Alternative'.
---