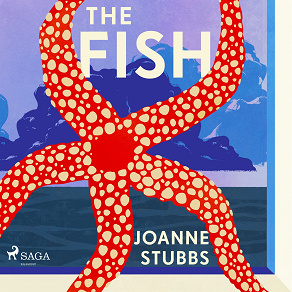 Isbn:
978-87-2847-718-2
Publisher:
Saga Egmont
Category:
Novels
Fantasy & Sci-Fi
Accessible since:
September 2022
Narrator:
Anna Cordell
Length: 8 hours 1 minute
---
The Fish
´There is a fish on the sand; I see it clearly. But it is not on its side, lying still. It is partly upright. It moves. I can see its gills, off the ground and wide open. It looks as though it's standing up.´

A few decades into the twenty-first century, in their permanently flooded garden in Cornwall, Cathy and her wife Ephie give up on their vegetable patch and plant a rice paddy instead.

Thousands of miles away, ex-pat Margaret is struggling to adjust to life in Kuala Lumpur, now a coastal city. In New Zealand, two teenagers marvel at the extreme storms hitting their island.

But they are not the only ones adapting to the changing climate. The starfish on Cathy's kitchen window are just the start. As more and more sea creatures leave the oceans and invade the land, the new normal becomes increasingly hard to accept.

What people are saying about ´The Fish´:

'Joanne Stubbs is a brilliant storyteller. Courageous, confident and intelligent, she explores the horrors of a fading planet in denial of its own guilt. Important and unputdownable.' — Fay Weldon

'An impressive debut: beautifully written, immersive, prophetic, terrifying and wonderful. I could not put it down!' — Melanie Golding, author of ´The Replacement´

'The Fish is a finely tuned, subliminal commentary on how good we are at ignoring the damage we inflict on our precious earth. The writing is slick, the world is bizarre, and the impending doom is palpable. Brilliant, clever, and important.' — Karla Neblett, author of ´King of Rabbits´



Joanne lives on the edge of the Cotswolds. After growing up in Staffordshire, she studied biochemistry at Wadham College, Oxford. She has since worked in a variety of roles in science communication and engagement. Joanne holds an MA in Creative Writing from Bath Spa University. ´The Fish´ is her debut novel.
Listen to sample
---