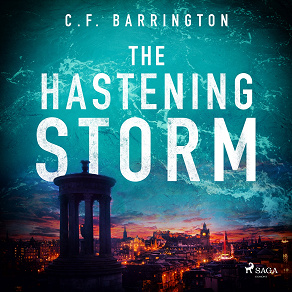 The Hastening Storm
The third gripping instalment in a dystopian thriller series, where modern-day recruits compete in a fight to the death in the streets of Edinburgh.

Live by the rules. Die by the rules. Or break them and take your chances in the chaos that follows...

The Pantheon Games are the biggest underground event in the world, with millions watching online as modern-day recruits battle to the death with weapons of the ancient world.

Tyler Maitland left his life behind to search for his sister, who disappeared after joining the Pantheon's Edinburgh chapter. But one year on, he's still no closer to finding her...

After the shocking climax of the Grand Battle, Tyler must now find a way to forge a new brotherhood amongst his enemies. There will be new identities, new teammates, a new cause... but the same blood will flow on the streets while those at the top enjoy the show and count the money rolling in.

This season will be like no other. Tyler must accept a new mission, one that hasn't been attempted in twenty years of the Pantheon. His life, and the search for his sister, depends on it.

´Squid Game´ meets ´The Hunger Games´ in this fast-paced, action-packed thriller series, perfect for fans of Pierce Brown's "Red Rising", "Battle Royale", and "The Running Man".

C.F. Barrington spent twenty years intending to write a novel but found life kept getting in the way. Instead, his career has been in major-gift fundraising, leading teams in organisations as varied as the RSPB, Oxford University, and the National Trust.

In 2015, when his role as Head of Communications at Edinburgh Zoo meant a third year of fielding endless media enquires about the possible birth of a baby panda, he finally retreated to a quiet desk and got down to writing. Raised in Hertfordshire and educated at Oxford, he now divides his time between Fife and the Lake District.
Listen to sample
---